Extreme Klezmer Makeover
is a quartet and sometimes a quintet of Los Angeles based musicians that play traditional Jewish wedding music from pre-1917 Eastern Europe as well as contemporary original progressive Klezmer Music.

The word Klezmer, loosely translated, means "an instrument of song".  Each of us sing the "music of Klezmer" through our unique musical backgrounds.  I was into classical, American folk, Indian, Middle Eastern, pop and jazz music.  Dan Radlauer was into blues, R & B and jazz. Dan Dungan was a bluegrass guy and Jamie Papish was a Middle Eastern percussionist.


The band was an outgrowth of the "Klezmer Band Workshop" I taught at McCabes Guitar Shop in Santa Monica, CA from 2004 to about 2010.  All instruments and all levels were welcome the music came from the array of klezmer books and CDs newly published during the "Klezmer Revival". We had saxaphones, flutes, clarinets, violins, bass, accordion, harmonica, piano etc. 

Dan Radlauer, on accordion, suggested we get together outside of the workshop and play some tunes on Monday mornings.  I invited Middle Eastern percussionist Jamie Papish to join us.  I met Jamie at the Middle Eastern/Western Music Fusion orchestra called Mesto.  The three of us met Monday mornings and had so much fun that we decided we needed a bass player.

I put up an ad at McCabes and in an entire year we got one call: from Dan Dungan, a blue grass stand up bass player. That was the beginning.

Our first gig was at a Rotary Club silent auction in Malibu, California.  We alternated sets with Steve Shapiro's Irish band and competed with announcements of successful auction bids for vases, tablecloths and antiques. 



Soon we got calls for weddings, anniversary parties, bar and bat mitzvahs.  We needed a string player and invited violist Novi Novog to play with us.  She recorded our first CD, "Under Construction", with us. Since our beginning, we have had multiple string players and percussionists but the core has  always been Dan Radlauer, Dan Dungan and myself. Ross Levinson played violin on our 2nd CD: Raising the Roof and Alan Busteed, Tom Talley and Yvette Devereaux were our violinists for our final years. 

Our name came from a spin off of the TV show "Extreme Home Makeover". We figured we were "making over klezmer" in the image of all of our diverse musical backgrounds.

Dan Radlauer and I composed many original tunes, most of which you can hear on the music web page.

I wrote: 
Always Russian           Grandpa Benny's Chicken Market
Itamar's Aliya               Oh Grandma Yetta
 
Dan Radlauer wrote: 
Blue Suede Schmooze         Dancing with Turendot
Grandma Dora's Latkes        Distant Cousins    
Ellis Island Rag                     Unorthoducks 
TonO'Tabouli
 
We gathered traditional tunes from performing bands like "Veretski Pass", the "Burning Bush", Andy Statman's bands and the early klezmer books like "The Complete Klezmer"  by Henry Sapoznik, "The Absolutely Complete Klezmer Songbook" by Yale Strom, "From the Repertoire of German Goldenshteyn" published by Living Traditions and "The Music of Veretsky Pass" by Cookie Segelstein.
    
Klezmer has always been a melding together  of the melodies and modes of Jewish Cantorial Music, Eastern and Western European folk music, Gypsy, Greek, Turkish and Persian Music.  We felt we were continuing the tradition of our Eastern European predecessors, by assimilating the music of our cultural surround into older Jewish music traditions.  Our goal was to bring joy to cultural celebrations, document life and uplift our community through song. 





The band has played at homes, backyards, rec centers, the Dorothy Chandler Pavilion, the Skirball Center, McCabes Guitar Shop, Boulevard Music, the Culver City Summer Festival, the Santa Monica and Brentwood Farmer's Markets, Senior Centers and Rehabs, the UCLA Hillel Center, the Last Bookstore,  and many Synogogues around Southern California.  We made two CDs, "Under Construction" and "Raising the Roof" (all of which you can hear and purchase on this website), recorded several videos and brought a lot of joy and music to our community.
    
We were all sad when the band seemed to break up in 2014,  but Extreme Klezmer Makeover  came to life again this year on June, 5th, 2016 when we got a call to play for a benefit for IKAR, a relatively new progressive Jewish community in Los Angeles. We are back!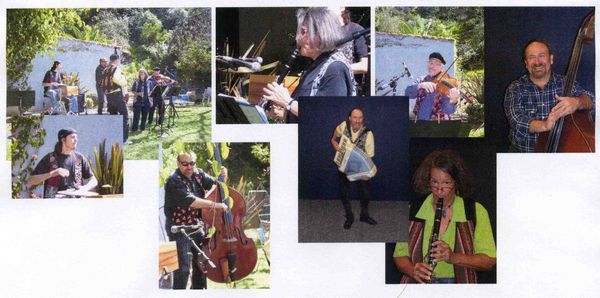 VIDEO
Bai Mir Bis Tu Shein  at UCLA Hillel---3/14/13 Video by William Ohanesian
Joellen on clarinet, Alan Busteed on violin



Los Angeles Holiday Celebration Concert at the Dorothy Chandler Pavilion, 2007
Left to Right: Ross Levinson,violin, Joellen, clarinet,
Jamie Papish, percussion,
Dan Dungan, upright bass, Dan Radlauer, accordion


The Last Bookstore, downtown Los Angeles