BIO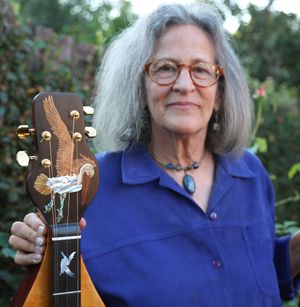 Joellen Lapidus is one of the pioneers of contemporary fretted dulcimer playing, songwriting, and instrument construction and is the author of the dulcimer instruction book "Lapidus on Dulcimer". Joellen blends the Appalachian, Indian, Arabic, jazz, classical, and pop musical styles to give the dulcimer a new range of rhythmic, melodic, and tuning possibilities.

As a dulcimer maker, her work influenced many of the dulcimer builders of the 70's and 80's. Her instruments were known for their innovative shapes and exquisite soundhole and peghead inlay work. She introduced the dulcimer to Joni Mitchell and made three instruments for her between 1968 and 1976. She has also made instruments for David Crosby, Jackson Browne, Wendy Waldman, Garth Hudson and Kevin Roth.
Joellen teaches dulcimer in West Los Angeles and runs the Los Angeles Urban/Mountain Dulcimer Club. She performs on dulcimer and accordion with her contemporary folk band:  THE URBAN GYPSIES. She has also returned to her original musical loves -KLEZMER MUSIC- and performs with her new Klezmer band "SCHMALTZ".